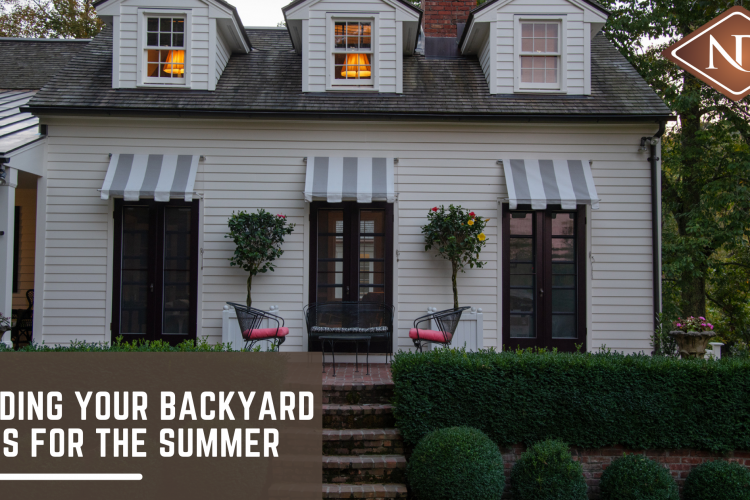 The beautiful weather has arrived and it's time to transform your backyard into a place of escape. Where you can unwind, enjoy some fresh air, and have fun with friends and family. This will require a collaboration of outdoor furniture, décor, landscaping, and other elements to fit your exact style and needs.
When designing your backyard oasis, put an emphasis on one area of your property. Rather than trying to fill up the entire space of your backyard. This will help keep you on budget and leave you plenty of open space in your yard for activities.
Designing your oasis will be dependent on you, your family and your needs, and what you plan to do in the area. If you have children you may want more open space for them to run around and play or a swing set. Or if you are planning on entertaining, you will want a larger seating area. If you are looking for a private space for just yourself to relax, you may just simply want a hammock in a shaded area.
Location
The first step is to pick the spot you want your backyard oasis to be located in. If possible, finding a spot that provides some natural shade from direct sunlight would be great. If that is not a viable option in your backyard a Pergola or Gazebo would be a great fit to provide you with the shade you need.
Build a deck or patio space
If your backyard is nothing but grass, you may want to incorporate a deck or patio. A hardscape area is great for planning furniture, grilling, and relaxing. Adding an outdoor deck to a home is also one of the smartest investments you can make in your home, in terms of adding resale value. In fact, according to Remodeling's 2021 Cost vs. Value Report, a wood deck addition yields a return of around 65 percent. The price of a deck will vary and be dependent on the size of the deck and the materials used.
A deck or patio is a great spot that will be level enough to place furniture and decorate to your unique style. The most eye-catching backyard oasis will effortlessly blend the hardscape with the soft scape.
Set up a place for Food Prep
Summertime is grilling season. So, make sure you have enough space for even a small grill and meal prep area to cook for guests. Your outdoor kitchen does not have to be a glamorous design with a built-in grill and cabinets. A standalone grill with an extra table for prep work will do the trick.
Gather around the Fire
A night gathered around the firepit can provide lasting memories with the right company. You can get a lot of use out of firepits since can be used from mid-spring all the way into the fall. If you need help selecting the right fire pit for your backyard set up, check out our article about selecting the right fire pit here.
Lighting
Proper lighting is very important for your outdoor oasis. If you are planning on spending nights outside you don't want glaringly bright lighting attracting mosquitos and moths. You may want to consider string lighting since they are easy to install and move. If you are looking for some more outdoor lighting inspiration ideas check out YLighting's "Modern Patio Lighting Ideas".
Comfortable Furniture
This area is meant for you and your guests to relax and unwind, so don't buy uncomfortable furniture. While the furniture does not have to be expensive, it should match the rest of your area and be comfortable for entertaining guests. You can even DIY some furniture such as the picture below. It's very simple to put a few pallets together and add some comfortable cushions to give your space the perfect touch.
A backyard oasis is meant to be a place for you to unwind and enjoy the summer days. These are just a few ideas but feel free to let your creativity flow and create a space that matches your particular style and taste.