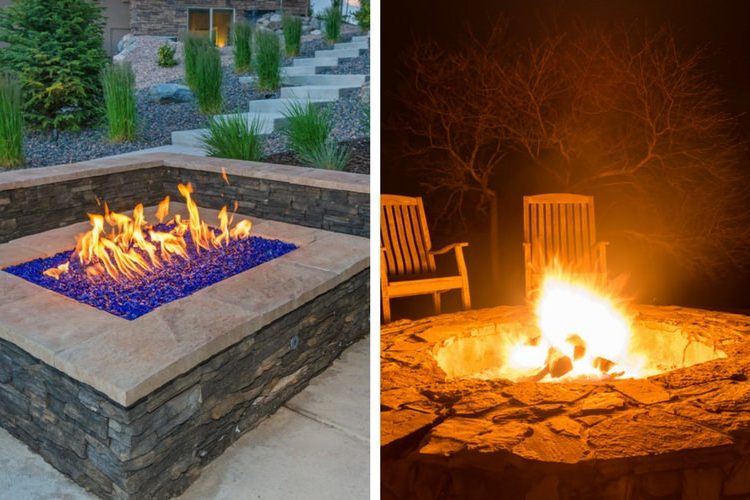 Are you looking to add something to your backyard to use when you have company but not sure just what would be the right touch? Well, there is nothing better on a cool summer night then sitting around a fire, roasting some marshmallows and spending time with friends. Adding a fire pit would be a great way to upgrade your outdoor living space and give you another activity to enjoy doing on these fall nights. There are a few different types of fire pits that can meet your specific needs and we want to help you choose the right one for your yard.
The two types of fire pits that most people use on their property are either a wood burning pit or a gas burning pit that uses propane tanks to ignite the flames. We will go further in depth below on the pros/cons of each to help you make your final decision.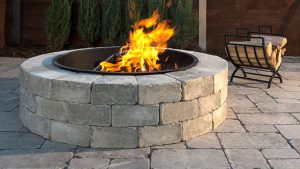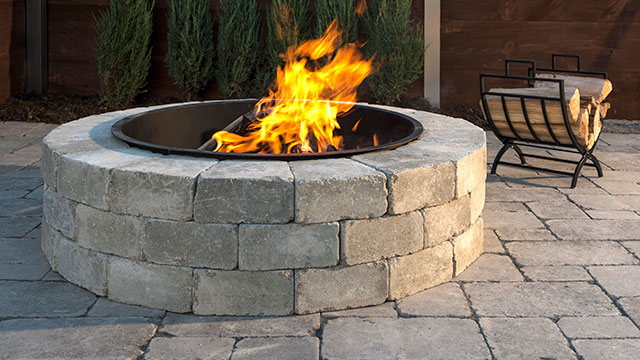 Wood Burning –
A wood burning fire pit is like having a campfire in your backyard. It provides warmth, the gentle crackle of wood and the smell of the smoke throughout the air which for many are tantalizing features. Wood burning pits also provide more heat and produce larger flames which makes it much easier to cook with.
One drawback of having a wood burning pit is that you need to have a stockpile of wood to continuously keep the fire from dying out. For some not living in a rural setting with many trees around their property, this can be quite the inconvenience.
You can choose between a portable pit, which provides you with the convenience of moving it to different locations throughout your yard or the option of having a built-in design made of brick or stone. Building an in ground fire pit could be an easy inexpensive DIY weekend project to put the finishing touches on your backyard.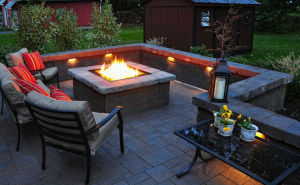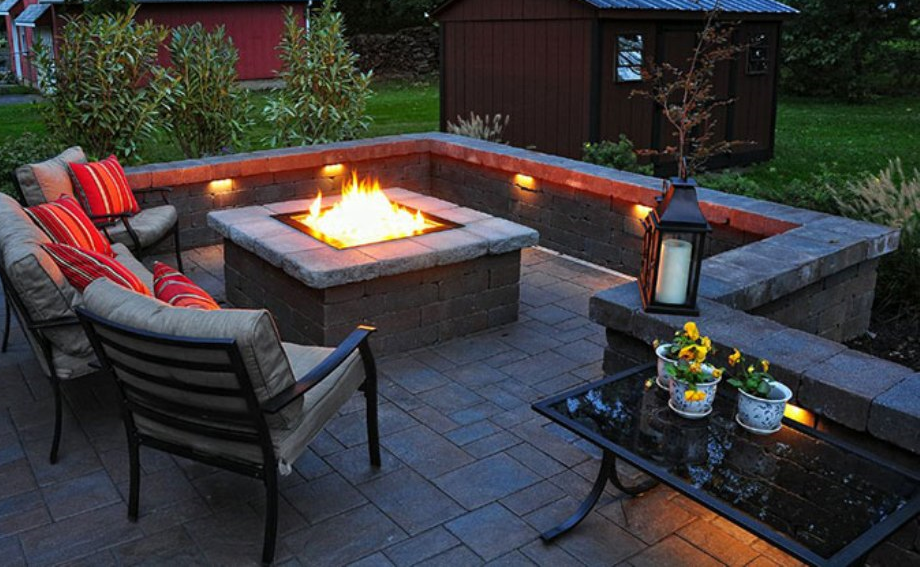 Gas –
   Gas pits have the benefit of giving you flames with little to no effort. Also there is no need for wood, as you can use the same propane tank your grill would take. The ease of turning a switch verse trying to get wood to catch fire is also a nice perk. A gas burner also doesn't leave much to clean up afterwards as it does not produce smoke or ashes. Fire pits can also be purchased as portable so you do not have to have a stationary spot and can move it to your desired location each time.
The drawbacks of gas pits are that propane tanks can be costly. If you enjoy having a fire often be prepared to go through a couple of tanks throughout the summer. Also, there is a slight chance that the tank could possibly run out of gas in the middle of your entertainment. Which could cut your evening short providing you don't have a backup tank on hand. Gas tanks do require some maintenance as burners and valves must continuously be cleaned to avoid blockages from insects or dirt buildup. This is a fairly simple process, but much more maintenance compared to a well-built wood burning pit.
Conclusion
Both Wood burning, and gas fire pits can be attractive additions to your backyard or patio.  Overall it depends on personal preference. Gas pits are much more convenient, while wood pits will provide you with that campfire type feel with the aromas and ability to cook right over them. Both will provide you with a great centerpiece for your backyard.
If you are considering a project to upgrade your home, New Dimension Construction would be pleased to discuss our process with you. Call (845) 605 – 1313 or email info@NDCcontracting.com . We think you will find this approach refreshing!
Photo Taken from : https://www.homestratosphere.com/ , Google Images