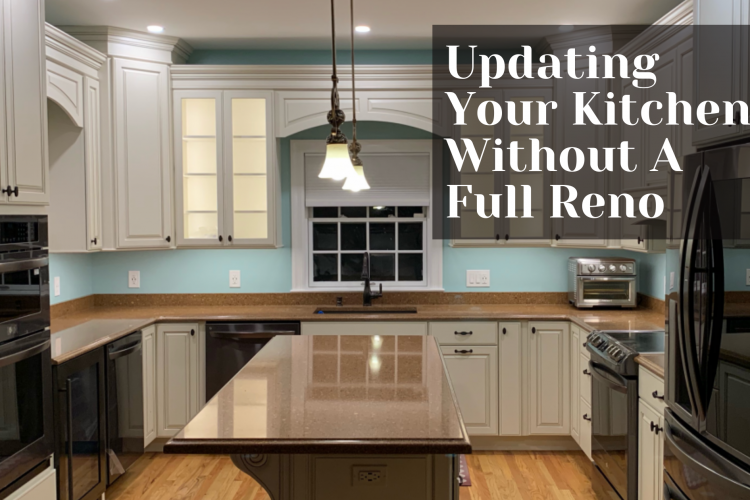 Updating your kitchen is possible without committing to a full reno. Sometimes a full kitchen renovation can be expensive and time-consuming.  A full kitchen remodel can involve projects that are best left to professional contractors such as:
Adding plumbing fixtures
Adding or moving electrical outlets
Removing walls to increase space
Changing floors
Installing new cabinetry
Fully remodeling your kitchen is a great idea if you can do so. It is one of the most used rooms in the house and a freshly renovated kitchen can do wonders for your home's resale value. While a full renovation is a great investment, we understand some may not have the budget it requires for such a task. However, there are still ways that you can still freshen up your kitchen without breaking the bank.
Swap out the Hardware
It seems like such a simple task, but it can have quite an impact. Changing the knobs or pulls of all your cabinetry can really give your kitchen a fresh look. The best part is this can easily be done and may take only an hour of your time.
When selecting new hardware make sure that it goes well with your existing cabinetry and matches the old hardware's drill length (which will make installation very simple). Choose hardware that is functional, fits your style, and can be cleaned easily since it will be used every day.
Add/Change Lighting
Sometimes lighting is all you need. A well-lit room can give the space a completely different aura. Upgrading the lighting can give a complete refresh to the atmosphere of the kitchen and make it much easier to work in. You can add pendants over your island, a sconce over your sink, or lighting underneath your cabinets. Extra lighting will brighten the room up, making food prep easier and will give a brighter/more open mood to the entire space.
Upgrade Appliances
This may be the most expensive tip on the list, but it can have a great impact. Maybe you have already upgraded some parts of your kitchen but now your refrigerator and oven are looking a bit outdated. It may be that you have not replaced them in years and are not functioning properly or they just don't match your taste anymore.
Old appliances can become an eyesore if not well maintained. Even a smaller appliance that sits on the counter can have a big impact. A fresh new coffee pot can become a new visual focal point of your kitchen. Whatever the reason it may be, upgrading your appliances is a great option.
Paint (Cabinets)
You may love your cabinets and backsplash but hate the rest of your kitchen. Or you may love the color of your walls but feel your cabinets need to be updated. Whether you choose to brighten up the room or go darker just make sure that your cabinets and walls are complimenting each other.
Painting the cabinetry, however, can require a lot of work. It is not something that you should just dive right into without some consideration and prep. It can be a bit of a lengthy process and much more difficult than painting the walls, but can be done by someone that is not a professional, as long as you have the right tools and can follow instructions. If you are looking for instructions, check out this step-by-step guide from Benjamin Moore on "How to Paint Kitchen Cabinets".
Add open Shelving
If you have an empty wall with space to fill, why not introduce some open shelving to your kitchen? It gives you an extra storage spot and a location to show off any fancy glassware or decorations you would like. Open shelving provides additional storage solutions while also giving your kitchen a more modern and elegant touch.
Final Thoughts
A newly remodeled kitchen is great, but it may not be in your current budget. Luckily there are plenty of things you can do to give your kitchen the refresh it needs without emptying your savings.
A kitchen remodels may not be worth it for you for various reasons. For example, there may be other areas in your home that have more pressing matters to take care of. You may be planning on using your savings for something else such as a new car or vacation. Or you may not be planning on staying in your current home for a long time, therefore the remodeling costs may not be worth it.