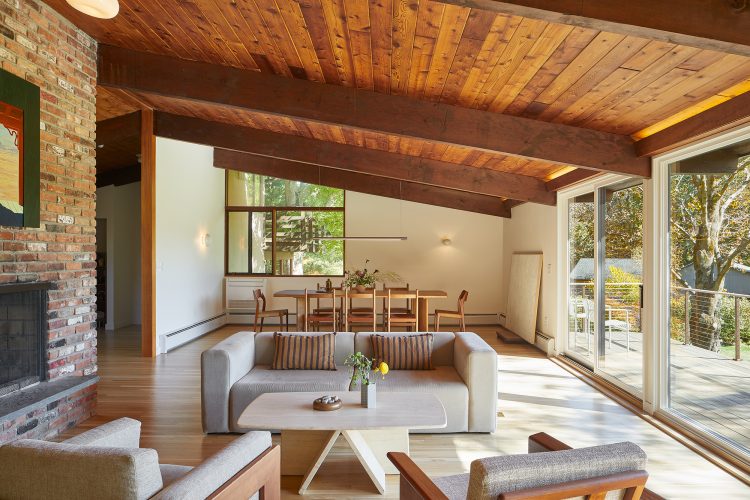 It's almost the end of 2021, as we close out another year impacted by the pandemic. We have seen some parts of our lives return to normalcy, however many of us are still spending plenty of time at home. This year comfort, functionality, and sustainability are at the forefront of importance when it comes to design. Let's take a look at the latest home trends for 2022 for some inspiration…
The Year of Renovation
As we stated, people have been spending a lot of time at home over the past couple of years. This gave them plenty of time to realize what parts of their home needed a change. Whether they've been in their home a long time or just moved in, we are noticing a lot of people are opting to remodel some part of their home, if not the whole thing. This makes sense, if you are going to spend a lot of time in this space, it should be designed how you want it. Whether they are calling professional contractors or taking on DIY projects themselves, people want to design their homes to their exact needs.
The Home Office is Here to Stay
While some businesses may have moved back into the office, for most a hybrid approach has been the go-to option. So those makeshift home office setups we made last year may not be as temporary as we thought. Working on the kitchen counter or sitting with your son on your sofa may not do the trick anymore. Now it's time for an upgrade, the key is to try and create a comfortable workspace that will also complement the design of the rest of your room. The key points are storage options, ergonomic chairs for comfort and design, and a desk with enough space for a full workstation.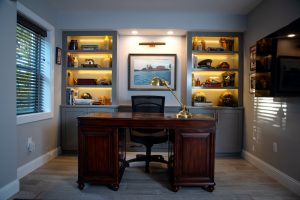 Whether you need a roomy space with everything included or a fold-away desk in a living room, a functional workspace is great to have. An area for reading, paying bills, or just browsing the internet is a great option for almost everyone. When designing your office space keep in mind functionality, practicality, and the overall aesthetic. Consider these things before you dive in to set up your home office.
Location:
Ideally, you would want your workspace in a quiet part of the house away from any distractions.
Equipment:
Try to be efficient when choosing your furniture and equipment. You want to be able to work efficiently without having too much clutter.
Storage:
A home office needs to be organized and sufficient storage will help keep things neat and in their place. Choose storage containers that go well with the rest of the décor of the room, as opposed to plastic storage bins.
Vintage is in
The world's supply chain is an absolute mess right now. Whether it is in the grocery store or hardware store the items you are looking for may be out of stock for a while. Look for many homeowners to choose secondhand décor to furnish their home. This will save them from waiting for absurd lead times for particular items and since sustainability is very important now, recycled furniture will be big.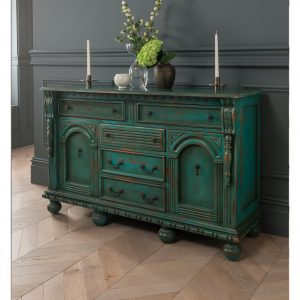 Shopping for vintage items is one efficient and sustainable solution to add personality to your living space. Sustainable retailers will provide homeowners with high-quality products that will hopefully last longer and stay in good shape. This will be good financially and for the environment. Plus there are plenty of options to find unique pieces of furniture; thrift stores, flea markets, and resales sites like Facebook Marketplace or Craigslist. Sustainability is something that many people are looking for in their homes.
Along with second-hand furniture, you can also opt to use recycled materials such as reclaimed wood, bio-glass, or recycled metal. Also, choose energy-saving options such as eco-friendly lighting (LED and CFL lights use less energy and last longer) or programmable thermostats to keep down heating/cooling costs. Keep an eye out for smart home products with Energy Star Certifications. This is a mark established by the U.Environmental Protection Agency to differentiate products that meet the highest standard of excellence in energy savings.
Emphasis on Natural Lighting
Natural lighting always makes a living space more attractive. A closed-off room with 4 walls does not always have the same vibe as a room with windows that can bring in some extra light. If possible floor to ceiling windows or the addition of a skylight would be the ultimate way to add in some natural light. Considering the amount of time spent at home nowadays, natural lighting is essential. It saves you from wasting energy on other forms of lighting and it will give you a nice view to look out to the rest of the world.

Earth Tones
Paint colors play a huge role in the mood of every room. This year many people are gravitating towards more earth tones to match the calmness of nature. Natural colors such as greens, blues, and browns are receiving a lot of love this year.
Benjamin Moore has chosen 'October Mist' which is a very subdued green that would look great in a living room or home office to give a calm, relaxed feel.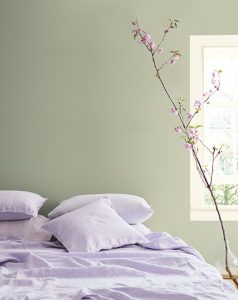 Sherman-Williams chose 'Evergreen Fog' which is another calm shade of green. "Evergreen Fog is a sophisticated wash of color for spaces that crave a subtle yet stunning statement shade," says Sherwin-Williams' director of color marketing, Sue Wadden.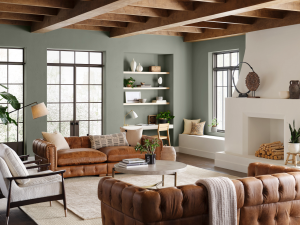 Dulux named 'Bright Skies' a light and airy blue, as it's Colour of the Year 2022. A shade promotes tranquility and restfulness, making it the perfect choice for a bedroom or bathroom.

Black Accents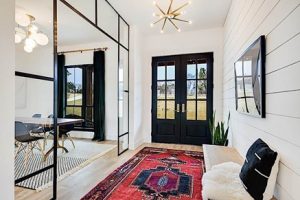 Black accents can really add a unique look to any space. If paired with neutral or light colors the contrast gives a sophisticated look. Black hardware can be a nice touch to kitchen cabinets and drawers, black lampshades can really give off an elegant look, or you can use black around the trim of wall frames or windows. Just do not go too overboard with it. The black accents can really make a room pop if the majority of the room is filled with lighter colors. In this case, take a less is more approach and use the black accents purposely to give your space an elegant look.
Outdoor Living
With all of this time spent at home people still need an escape. More people are beginning to make their backyards a true oasis. If you are working remotely it is a great area to get away and relax. Even still having an outdoor living area is a great place to relax and entertain guests. Houzz search data has shown that people are looking for their backyards to be relaxing extensions of their interior spaces. People have become very creative when it comes to creating durable furniture to survive the elements outside.
As we head into 2022, we've put more of an emphasis on functionality and a more natural aesthetic. We have all been spending much more time at home in the past few years, and it is really important to make your home a place for relaxation and comfort.