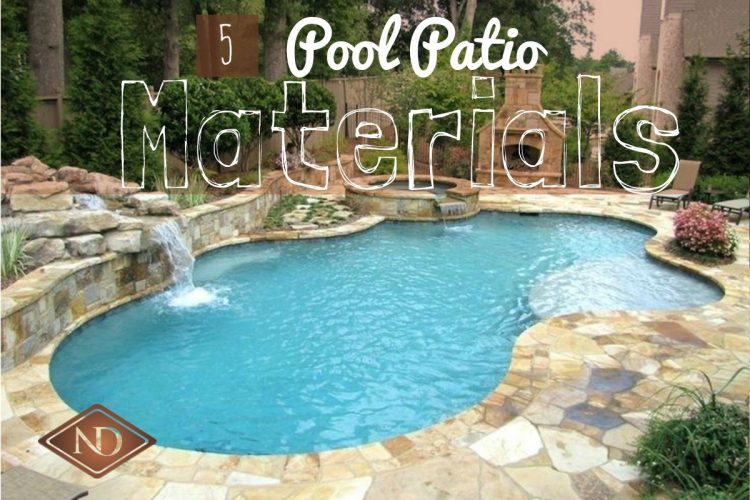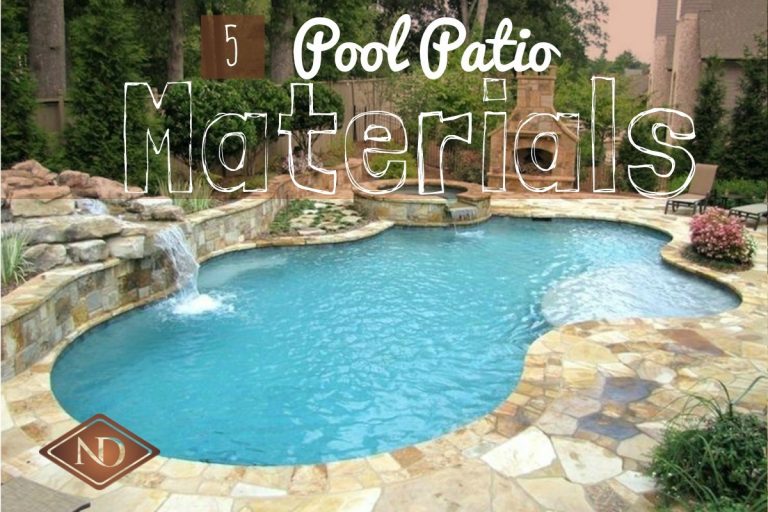 We are in the middle of summer and maybe you have decided its time to add or upgrade your patio by the pool. It may seem like a simple process but choosing the perfect material to fit your backyard can be quite the challenge. It is a significant investment in both time and money spent on materials and installation.  Here are a few things to contemplate when choosing the materials, you want to build your pool patio with.
Is it non-slip material? You don't want to have a slippery floor when you are getting out of the pool
Is it heat reflective? Will the material surface stay cool in the sun?
Is the material resistant to chemicals used to keep pool clean?
Here are 5 common materials that are used today to build a pool patio and a few pros and cons that can help you determine which is best for you.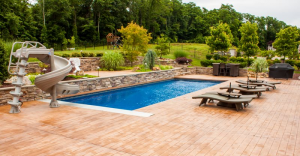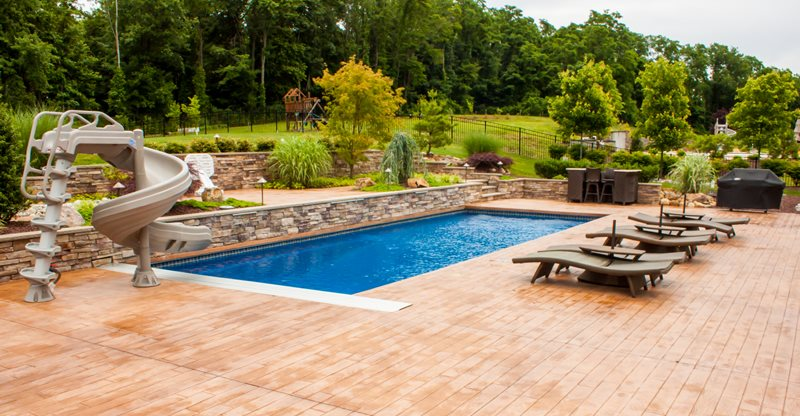 Wood
The most affordable option, however, requires yearly maintenance (cleaning, sanding to avoid splintering). Wood will give you a natural look to the pool area, and there are many patterns to choose from.  It can be built ground up so it is used mostly for above ground pools.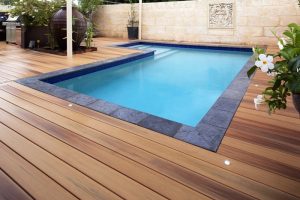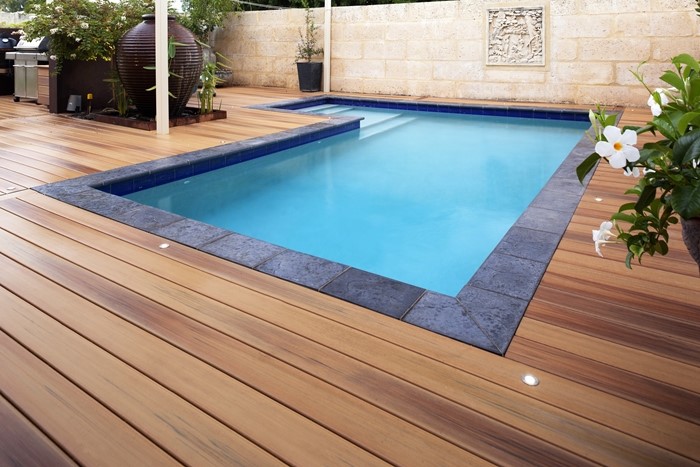 Composite
If you like the appearance of wood but don't want to have to worry about the maintenance involved, composite is for you. Although it is more expensive than wood, it still looks like wood. This plastic like material, doesn't fade, wear out or splinter which saves you from having to worry about the yearly maintenance required with a wood deck.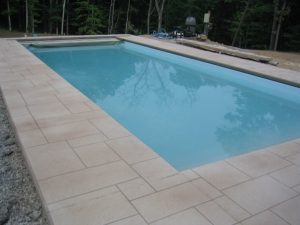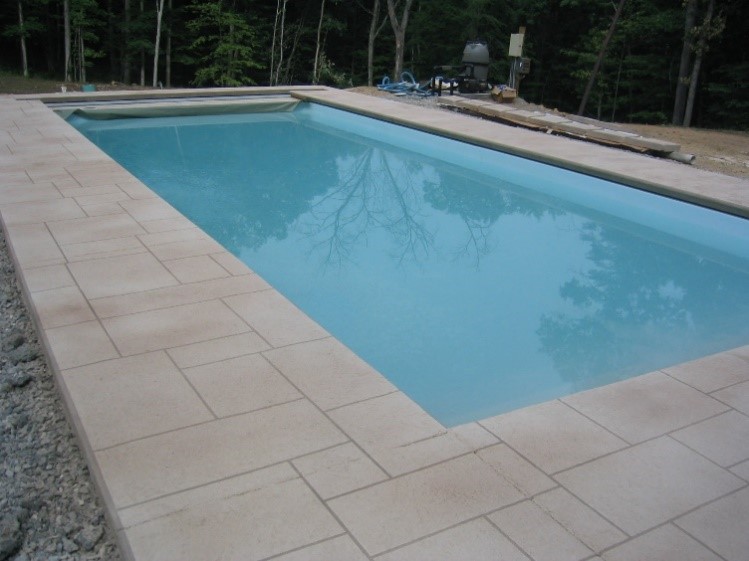 Concrete
Can be a bit expensive but gives you a plethora of options. It can come in various colors and different stamped down designs and patterns. Concrete is easy to maintain, not requiring much maintenance besides an occasional rinse down with a hose. This material does not get warm when temperature rises, making it more comfortable walking in and out of the pool with your bare feet. However, if left untextured it can become slippery when wet.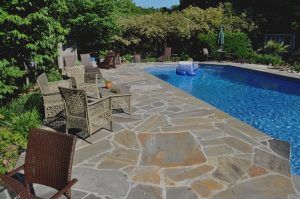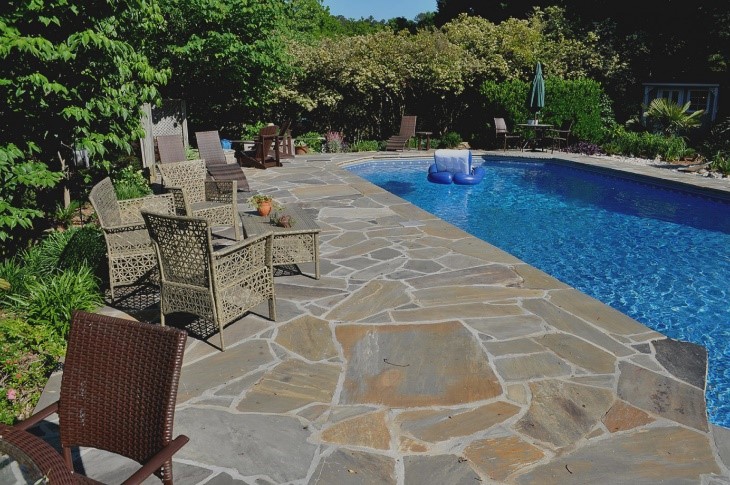 Stone
Is available in various shape, sizes and colors to fit your specific liking. This provides your pool area with a natural look. Stone is durable and easy to maintain. Although, it is more expensive than some of the other material options.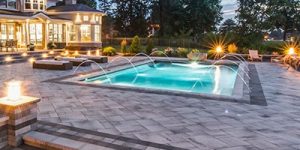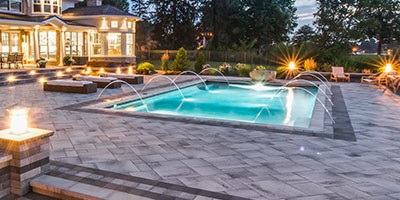 Pavers
This material is put together piece by piece and comes in a large variety of colors and styles to choose from. If installed correctly these will not crack or splinter up like other materials. If any issue does arise, it is an easy fix since they are a bunch of pieces laid down together, you can just replace the individual paver.  This material is also fade resistant and has a non-slip surface for added benefits. Cleaning pavers may be a bit more of hassle as there is a possibility of weeds growing in the little cracks in between each paver.
In the end it comes down to your budget, how much time/money you want to spend maintenance and your overall aesthetic preference. Weighing the pros and cons of these options will help you make your final decision in building the perfect poolside patio.
If you're considering going forward with this process, the next step is to figure out how much this will cost and which person or company is right for the job. For help with that read our blog on how to choose a contractor. https://www.ndccontracting.com/choosing-contractor/. 5 Pool Patio Materials