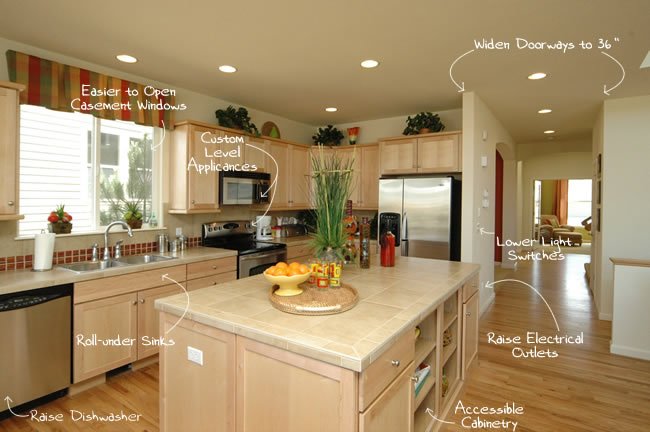 Universal Design is the process of designing an environment so that it can be accessed, and used by all people regardless of their age, size, ability, or disability. In 1997, led by the late Ronald Mace and a group of architects, product designers, engineers, and environmental design researchers, the 7 Principles of Universal Design were developed. Its purpose is for the design to be usable by anyone to its full extent without the need for adaptation.
While not covered under the Americans with Disabilities Act (ADA), Universal Design goes further by recognizing that there is a wide spectrum of human abilities. Everyone, even the most able-bodied person, passes through childhood, periods of temporary illness, injury, and old age, so everyone benefits from Universal Design. Your home is the one place you should feel comfortable and be able to get through normal activities and Universal Design aims to make that a reality.
The 7 Principles of Universal Design include:
Equitable Use. The design is useful and marketable to people with diverse abilities.
Flexibility in Use. The design accommodates a wide range of individual preferences and abilities.
Simple and Intuitive Use. The use of the design is easy to understand, regardless of the user's experience, knowledge, language skills, or current concentration level.
Perceptible Information. The design communicates necessary information effectively to the user, regardless of ambient conditions or the user's sensory abilities.
Tolerance for Error. The design minimizes hazards and the adverse consequences of accidental or unintended actions
Low Physical Effort. The design can be used efficiently and comfortably and with a minimum physical effort put in.
Size and Space for Approach and Use. Appropriate size and space are provided for approach, reach, manipulation, and use regardless of the user's body size, posture, or mobility.
Universal design is beneficial to everyone. Think about the ramps they have outside of grocery stores, it is intended for those in wheelchairs. However, it is also used by customers with their hands full or employees pushing carriages into the store.  Universal design is a great concept and should be considered whenever designing a home. When you are building a home, it is much easier to design it to meet these principles initially than to try and retrofit them to meet the standards of the principles afterward.
Aging in Place
These days many individuals are choosing to age in place. Meaning that they want to live in the same home they have been living in as they begin to age. Aging in place means that people can remain in their same home living safely, independently, and comfortably regardless of their age or ability level.  If the current home is not designed to be adapted to a wider range of health conditions some issues can arise. This is encouraging housing producers to adopt the principles of universal design in order to help customers age in place.
This includes:
a no-step entry (for home entrances and shower)
one floor living (bathroom and sleeping arrangement available without the use of stairs)
good lighting
easy to use door handles (levers instead of knobs)
efficient space planning (wide doors and hallways)
As well as other features that reduce effort and accommodate short-term and chronic disabilities. As you can see not all of these are major renovations. Some are simple projects that anyone can take care of to make their home a bit more accessible. That is the great thing about Universal Design it can be flexible. These features are beneficial to everyone but will make life easier for those getting older or that have temporary or permanent disabilities. While Universal Design is something that does focus on function, this does not mean it will have your home looking odd or out of place. Universal design still focuses on aesthetics to make sure you are living in a "normal" looking home. That way you can live in a stylish home while still enjoying the benefits of Universal Design.
Universal Design is not something that is going to cost much more than a regular remodel, and it will be usable for a lifetime. Even if you are not considering aging in that home, as stated, Universal design is beneficial to everyone. In fact, these features may even be something buyers are looking for in their next home, which could possibly increase your home value.
Benefits of Universal Design/ Aging In Place
Aging in place and Universal Design is about having a home that will accommodate your needs today, tomorrow, and 10 years down the road. Universal Design's mission is to make your home life as easy as possible. You never know when situations may change. You may need your home to be accessible as you age or if an injury or ailment comes along. It is all about safety, functionality, and comfort. The number of Americans ages 65 years and older is expected to double by the year 2060 from 46 million to 98 million. The advances in nutrition and healthcare have allowed people to live longer. With that, aging in place has become greatly embraced by millions of Americans that want to stay in their current home.
People aging in place can still maintain their same lifestyle as long as their home is set up using Universal Design principles to accommodate their conditions.  The bathroom can be one of the most dangerous rooms in the home for the elderly and disabled. This makes things much easier for people to navigate through their homes doing regular day-to-day activities without struggle. If you are looking for a more in-depth list of things you could do to your home to accommodate for aging in place check out this great remodeling checklist we found here.  Universal Design has made great strides in helping make the quality of life for the elderly and disabled. Allowing them to stay in their same home throughout their lifetime.