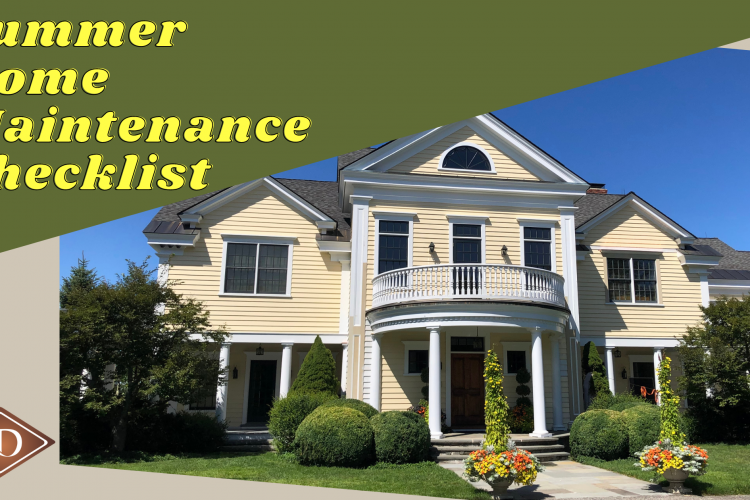 Summer is a time to relax and enjoy the beautiful weather. However, it is also a great time to accomplish some maintenance on your home. It is better to do preventative care now than to wait until it is too late and a bigger issue arises. Check out our summer home maintenance checklist to help you give your home some care.
Power Wash
You may even want to soft wash any outdoor furniture or the siding of your home. Soft washing can be done using the same pressure washer just used at a lower psi
Use a pressure washer and power wash your sidewalks, deck, patio, and driveway. Also, take the time to inspect your porch or deck. Are any boards that are rotting that need to be replaced? Also, check and see if the deck needs to be resealed. If you notice bubbling and cracks in the sealant, it's time to get resealed.
Clean Gutters
Even though this is typically considered a job for the spring or the fall, summer is also recommended. Summer storms and high winds can cause debris to fall into the gutters.
Window Care
Dirty windows can stick out like a sore thumb and really ruin the look of the rest of your home. Take the time to clean your windows, check for any leaks that may be present, and if necessary replace any screens.
Grill Maintenance
Clean and test your grill often. If you have a gas grill, allow it to heat up for 10-15 minutes and scrub the grates clean. For a charcoal grill, a bucket of hot soapy water and a sponge can do the trick.  If you are using a flattop griddle, make sure you scrub the grease and grime off after every use.
To ensure proper grill safety, check hoses for cracks, holes, and blockages. Don't forget to place your grill 10 feet or more away from any structures, railings, or other flammable items before firing it up.
Save on Cooling Costs
There are plenty of options that can help you save on your energy bills. A smart/programmable thermostat can give you full control of when your air conditioning comes on. You can either preset it or control it from your phone, so that way you can set the temperature based on whether anyone is home or not.
Replace filters and cleaning out your vents will help keep proper airflow throughout your home.
Prevent Bug Breeding Grounds
Pesky insects can be such a nuisance whether they are inside or out. Since you will be spending more time outside,  you'll want to maintain a yard that isn't swarming with insects. A quick spritz of outdoor bug spray around the perimeter of your house and yard should help. Also, check your windows and doors for any potential leaks that could give insects enough space to infiltrate your home.
While some insects like mosquitoes are a nuisance, others like fleas, ticks, and termites can cause serious problems. Proper landscaping can help reduce bugs. However, if you have a serious infestation, you may want to bring in a professional to take care of the issue.
Summer is the time to enjoy your home but these few maintenance tips will make sure your home is in good shape for relaxation and enjoyment. While your house may have unique issues that need to be addressed, this summer home maintenance checklist should give you a good start. You can get back to enjoying your summer once these tasks are completed.
Have any questions? Feel free to Contact Us.