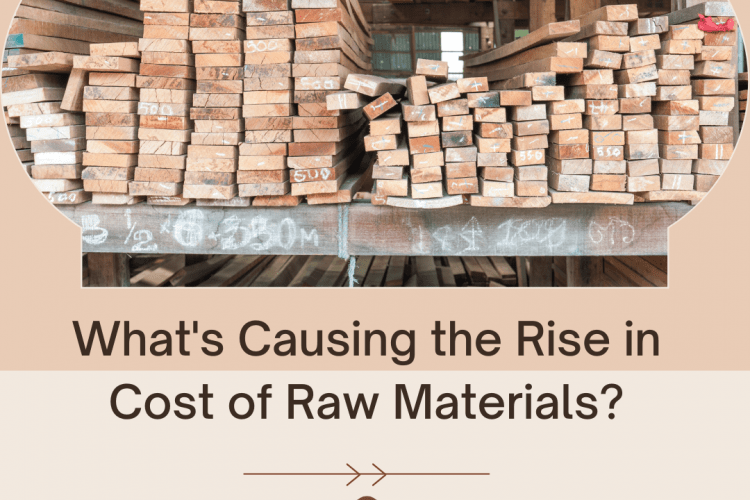 Over the past several months the prices of building materials have skyrocketed, which has wreaked havoc on the construction industry. So, what's causing the rise in the cost of raw materials? The overall price hikes have been enacted due to several factors, those being:
The Covid-19 Pandemic and its subsequential shutdowns
Raw material shortages
Global freight and supply chain challenges
Recent weather events
Demand outpacing supply
A combination of all of these has caused construction costs to catapult while also slowing down projects. The second quarter of 2020, was when the pandemic was at its peak and the lockdowns put in place caused a slowdown in production activities. The industry is still attempting to recover from the shutdown.
Covid's Impact
Material inventories are usually low around the winter months, as building season comes to a close. During this time demand is usually low, allowing builders to replenish supply (usually at lower costs) for the upcoming season or any straggling projects they have yet to finish. However, when Covid first hit manufacturers halted production and distributors stopped purchasing products out of the fear of the unknown.
As months went by and the summer came, demand for materials was unexpectedly high. Thus, the manufacturers were blindsided and completely unprepared to meet the demand. Inventory began shipping as soon as it was produced but the catch-up game has still yet to finish.
Essential Materials
The situation led to contractors having to pay more for the same materials they usually get while also having longer wait times due to the lack of supply and the global supply chain disruptions.
"Lumber, one of the biggest costs in home-building after land and labor, has never been more expensive and is more than twice the typical price for this time of year. Crude oil, a starting point for paint, drain pipe, roof shingles, and flooring, has shot up more than 80% since October. Copper, which carries water and electricity throughout houses, costs about a third more than it did in the autumn." (WSJ)
While some materials have seen higher spikes than others, most raw materials that are essential to building homes have seen a price increase across the board. Contractors now have to budget these price hikes into their estimates.
"Prices for goods used in construction jumped 3.5% from February to March and 12.9% since March 2020, representing the highest monthly and yearly increases in the 35-year history of tracking that data, according to the Associated General Contractors of America" (Construction Dive)
Longer Lead Times
Shipping delays have further hindered the construction industry's efficiency. Many shipping companies were impacted by the shutdowns. They are now overloaded with shipments that they cannot keep up with.
Manufacturers are still attempting to catch up with demand. Many local construction companies heavily rely on basic materials, like specialty products, tiles, flooring, and more. That is sourced from heavily delayed, or now-unavailable, global manufacturers.
Weather Conditions
Other causes such as the unforeseen weather conditions across the country have had an impact on delivery times. In August 2020 Iowa Derecho was the costliest thunderstorm in modern US history. Along with that major hurricanes (Isaias, Laura, and Sally) impacted various regions of the United States.  In February Texas experienced an arctic outbreak that shut down many power grids and slowed down manufacturing in the state and surrounding areas. For example, many polymer and fiberglass producers in the Gulf region were adversely impacted by the winter storm.  These producers are still attempting to get back on track.
Unforeseen Causes
On top of that, the recent 6-day blockage of the Suez Canal by one of the largest shipping container ships in the world delayed hundreds of ships. These ships had thousands of containers on them destined to reach the US.
No matter the cause, longer delivery times are going to severely impact construction schedules and put contractors even further behind. With no sight of an imminent restock of these desired materials, contractors are left questioning how or if they'll be able to complete their increasing workload of construction projects.
Looking Ahead
The Covid shutdowns have caused a domino effect impacting global supply chains. Thus hindering the production in the residential and commercial construction industry.  The industry itself has been running off of the inventory that was available pre-Covid and the small amount that has been able to be produced as parts of the world begin to reopen.
Manufacturers have been unable to resupply inventory to meet the needs of the market. So, contractors are either left waiting on preposterous lead times for materials or attempting to piece together their projects using parts from various brands to complete a project promptly. The biggest issue for contractors and subcontractors is that they are unable to plan. They have no idea how much materials will cost even a month in advance. And the shipping delays leave them completely guessing on what a project's schedule will look like.
As homeowners re-enter the market and consider remodeling or new construction projects, they have to adjust their expectations when it comes to their budget. For the same project, a budget set in 2019 will look much different than one set in 2021.
Have any questions about your home remodel? Feel free to Contact Us