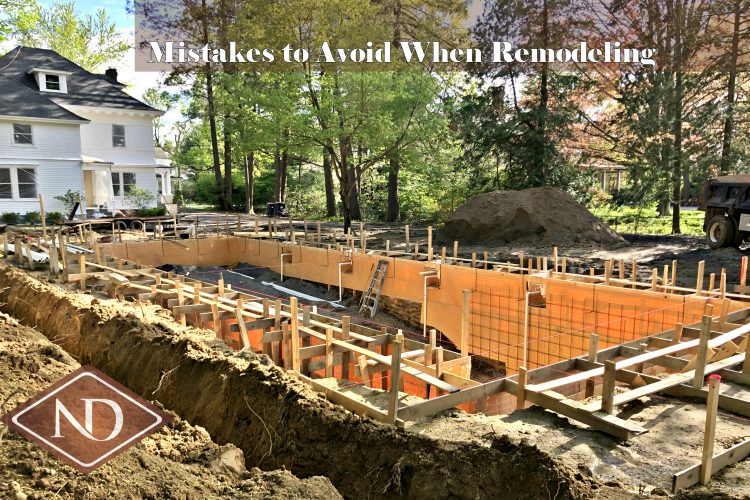 Thinking of remodeling your home? We have remodeled a lot of homes and often find people making these same mistakes. Here are a few that you may want to avoid before you start.
Not knowing your limits:
Many people have an idea of how they want their remodel to look, whether it's a kitchen, bathroom or an entire home remodel.  However, many don't consider both their fiscal and timeline restraints. Do some research beforehand on prices of materials to see what will best fit your budget.  Be realistic with yourself and your expectations, so you will be ready to discuss with your Contractor your ideas, along with your budget. The result will be a reasonable & doable remodel.
Ignoring potentially expensive problems:
Don't ignore problems that may not be visible at the surface but can be detrimental to your home. Water spots, leaking roofs or weak support beams need to be taken care of before you undertake any remodel.  Your new interior remodel will be compromised if necessary problems are not addressed first.
Not hiring Professionals or hiring the wrong professionals:
Nowadays most people watch HGTV and think they can handle their home renovation projects. Most people lack the equipment, knowledge and experience when it comes to renovating a home.  Unforeseen issues come along during a renovation that people are not prepared for.  When people do decide to hire a contractor, cheapest is not usually the best. Remember this is your home they are working on, so take your time in deciding a Contractor. Talk to a few, visit their website and then decide if you are a good fit. . For more information on choosing a Contractor, check out our past blog "Questions to ask before hiring a general contractor".
Ignoring local building codes:
Projects that impact the structural integrity of your home need building  permits no matter where you live. A building inspector noticing work without a building permit will stop the project.  Fines and removal of constructed work may follow, slowing down or halting your project. Some applications require professional architect or designer drawings. These permits ensure that the project will comply with all the safety and zoning laws of your local city or town.
Starting work without a contract:
The contract should describe the scope of work, materials being used, cleanup process, the total price and payment schedule. This contract will ensure that your project is getting done to meet your specific needs and gives you a laid-out plan on what you have to pay and when you have to pay your Contractor.  Contracts legally bind the two parties.  Without a contract there is no legal recourse.
Asking for free bids and underestimating budgets:
When hiring a Contractor most "free bids" are not good estimates. When Contractors offer free bids, they will not take the time to completely plan out your job and what will be the actual costs. New Dimension Construction does charge for an estimate because you are getting a detailed scope of work (WSA) with the goal being an accurate and fair price for the project. Being realistic & open about your budget is crucial for both Contractor & Homeowner.
Keeping Questions/Concerns to yourself :
When working with a contractor, keeping an open line of communication is very important. This ensures both sides are meeting their requirements and your renovation is meeting your expectations. Most contractors will provide you with progress reports and have regular meetings, but don't make the assumption they will do this automatically.  Speak up and ask for reports to know exactly how things are working out.  Communicate!