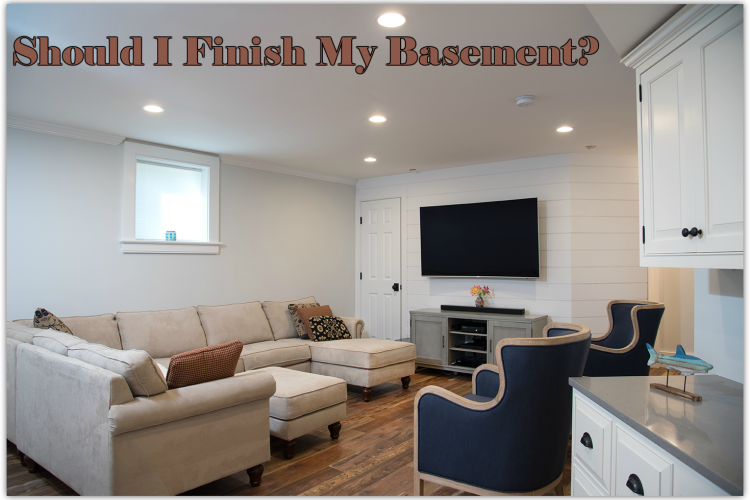 Do you currently have an unfinished basement in your home? If so, what current purpose does it serve? Many people with unfinished basements in their homes that they just use this space as "storage" or aka junk. While more storage space is always nice, items lost in the collection throughout the years are not! Some people may keep it organized, but why not make the best use of this space. We have a few finished basement ideas for you today.
The Value in Finishing your Basement
Finishing your basement can also be a good investment for you in the long run. Based on the article Cost Vs. Value surveys conducted by Remodeling Magazine, the average basement renovation costs around $61,000 and has a 70% return on investment. That makes it one of the smartest remodels! Many potential buyers would love to see a basement that was converted into a home theater, home gym or even something as simple as a spare living space. Plus, think of all the other possible new uses you could have for a finished basement. The possibilities are endless! If your unfinished area is large enough, you may have multiple options.
Finding its Purpose
Here are (6) reasons why finishing your basement is both useful and beneficial:
Children's Playroom – Are you tired of having your kids' toys all over the floor at random locations throughout the house? Well, now you can convert your basement into the perfect play area suited for them. A nice big open space will allow all their toys to be kept in their special area and out of the way from the main living area.
Game Room – Whether It's your friends, or your teenage children and their friends, a cool spot to hang out and shoot pool or play video games is a great idea. Adults might consider adding in a nice bar to serve beverages during R&R time with friends.
Home Theater – Upgraded media equipment with integrated lighting & sound in a comfortable room would be a great way to spend time with your friends and family.
Home Office – Today many people are working remotely. Why not set up a home office for yourself? A quiet place where you can get work done while being secluded from all the distractions of home.
Home Gym – If you are sick of driving to the gym 5 times a week and having to pay a monthly membership fee, you can convert your basement into a home gym. While the investment for equipment will cost some money, in the long run, it will be much less expansive in both time and money.
Guest Room – Would some privacy for guests visiting and staying the weekend be a nice addition to your home? A finished basement guest room, away from household activities, might be the perfect spot.
Whichever option you choose will all provide great use for your basement instead of just for storage.  It will also add value to your home while also making your life more comfortable.
While you are here check out this basement we recently finished HERE