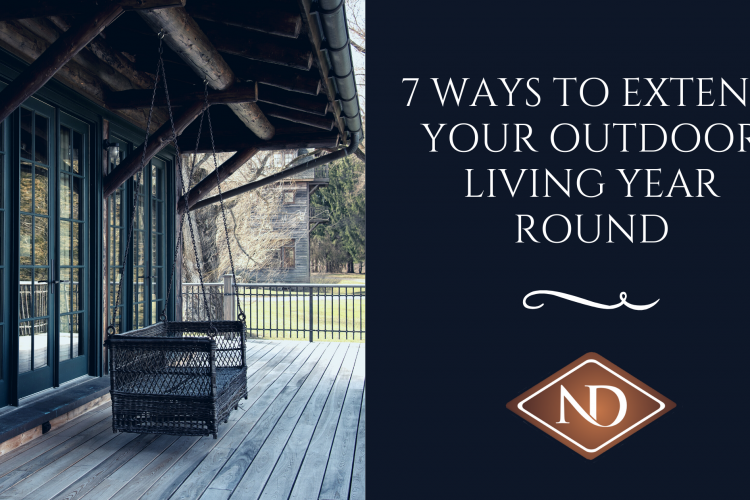 Outdoor living spaces are a key part of every home. The worst part is losing an entire part of your home during the cooler months. Many people living in cold areas are unable to use their outdoor living space in the fall and winter. Check out these tips to extend your outdoor living space for the cooler months.
Heat it Up
It is easy to extend your time enjoying your outdoor living space by simply adding a heat source. Besides keeping you warm, a fire is a nice place to gather around. Entertaining family and friends with hot drinks and roasted marshmallows around a fire is always a crowd-pleaser. Consider adding a fire pit or outdoor fireplace to your outdoor living space. If you are looking for something more temporary, outdoor heaters and fire tables are wonderful, portable sources of warmth on chilly nights.
Add a Hot Tub or Swim Spa
Cold weather is a great time to enjoy a dip in a hot tub or swim spa. New, energy-saving models stay hot without adding costs to your electric bill. Swim spas offer an added benefit: year-round outdoor exercise. Investing in a quality spa cover and proper insulation will keep your hot tub or swim well-maintained even during the coldest months.
Garden Year-Round
Enjoying your garden isn't just for warm weather. Growing seasonal plants is a great way to spend time in your garden year-round. Root vegetables and leafy greens do well in cooler months. Look for ones that can withstand light frost and air temperatures between 28 and 32 degrees. Containers of hardy herbs are another way to enjoy garden-fresh ingredients throughout the year. Also, try to incorporate some color into your gardens during the cooler months by adding cold-tolerant flowers and evergreen shrubs.
Cold-Tolerant Plants include:
Vegetables: Broccoli, cabbage, collards, garlic, beets, kale & rutabaga
Herbs: Rosemary, thyme & sage
Flowers: Pansy, osteospermum, flowering kale, & calendula
Shrubs: Boxwood, holly & dwarf pine
Create a Shelter
Cold weather can quickly put a damper on your outdoor plans. Consider updating your patio or pergola with a roof or include a gazebo in your outdoor space to keep you dry and warm. Adding outdoor curtains will also keep the chill away. Not only will these features keep you warm in the colder months, but they will also keep you cool in the warmer months by offering shade from the hot sun.
Fire Up the Grill
Enjoying grilled foods doesn't have to just be a summer thing. You can enjoy barbeque flavors year-round. Just make sure you preheat your grill and allow for extra cooking time as the temperatures dip down. Also, resist the urge to check on your food. Buying a digital temperature probe can keep you in the know of what is going on under the lid without having to open it up
Lighting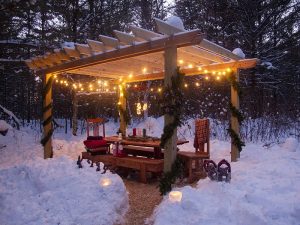 Fall and winter days are shorter leaving you less time to enjoy your space. The lighting that worked in the spring and summer may not be enough for the cooler months. You may require additional lighting sources to have your space feel more inviting. The brighter your space the more likely you are to spend more time out there.
Get Cozy
The easiest and possibly most cost-effective way to extend your time outdoors is by upping the cozy factor. Textiles like throw pillows and warm blankets create a comfortable and inviting space for outdoor entertaining. Consider storing these items in a convenient storage bin close by. If your space allows for it, the addition of outdoor rugs will help even further with the coziness and design of your outdoor living space.
You have probably spent so much time designing your outdoor living space. Having to pack everything up for the winter months is an awful feeling. Hopefully, these tips will help you extend your outdoor living space and make it usable in the cooler months.
If you have any questions about extending your outdoor living space feel free to contact us.