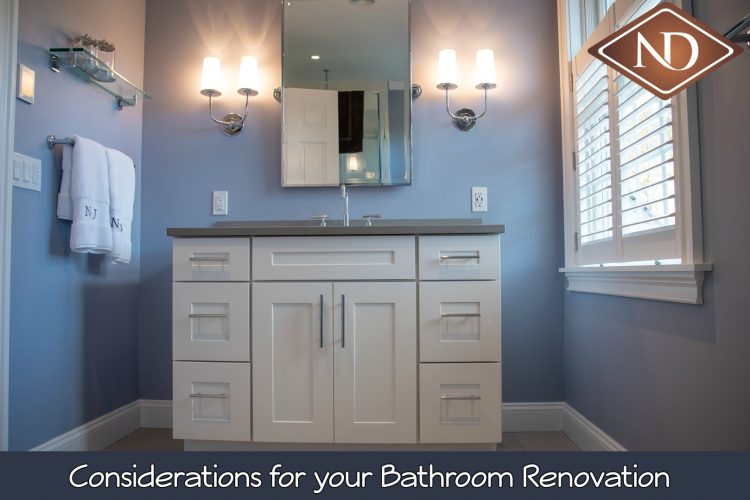 Remodeling the inside of your home can be quite the hassle at times. Having a crew of man coming in and out of your house can get in the way if you are home during the work day. Having an important room such as the bathroom practically useless while work is being done can really get in the way of your daily routine. Here are a few considerations for your bathroom remodel before you start work.
Is this your only bathroom in the house?
If yes, this could cause quite the disturbance to your daily life for a little while. Some have the luxury of having multiple bathrooms in their home, which will help minimize the disruption to your life.  However, if this is your only bathroom, you might consider possibly staying elsewhere until the project is completed.
Who are the primary users and where is it located?
Is your bathroom in the master bedroom? Guest room? Basement? This will determine if the remodel will be out of the way of your daily activities. It is also important to know who will be using the bathroom to help you determine some of the design features. If it is for children, your choice might be a bathtub instead of a standalone shower. If it is in the guest room that is not used too often, certain accessory features may be down scaled to save money.
What is the main purpose of the remodel?
Are you looking for an entire renovation? Update the style of your current bathroom? Or is it to just fix an issue?
Are there any special features on your wish list?
It's remodeling time! This means it's time to design your room the way you want. Walk-in shower, closet cabinetry, windows or skylights, in shower speakers, motion sensor faucets the options are endless? There is a plethora of different features you could add to your bathroom to give it that perfect touch.
What does your budget look like?
Some people assume that bathrooms will be an inexpensive remodel, but that may not always be true.  Certain design features alone can have quite an impact on your budget. You may be looking to spend only $10 per square ft. on floor tile, but the design you desire could cost $25 per sq. ft. Knowing your exact budget will help you put together the design features you want and can afford.
Is this actually a "Do it Yourself" or will a contractor be needed?
These days many people choose to go the DIY route. People tend to think the job may be easy or they just want save money. Bathroom renovations are not the type of projects that should be done by anyone other than a professional. There are many things that play a role in your bathroom renovation, such as electrical and plumbing. One mistake could cause a disruption in either of these.  Save yourself the headache and hire a professional.
Plumbing
There may be surprises when remodeling the bathroom. The condition of the plumbing is hidden, but there may be underlying issues that appear mid project. You may have to replace old pipes, deal with water damage, replace a tub, toilet or faucet.
Ventilation
This is often an afterthought when considering a bathroom remodel but is crucial in a bathroom. Poor ventilation can leave your room damp and moldy which is not good for the structure of the room and your overall health. Good planning is required when deciding the type of fan to use and where to install, so this should not be overlooked.
Tiles and Fixtures
Both play a crucial role in the overall design and feel of your room. With that being said, you should not wait until the last second to make these decisions. Some tile orders may only take a few days while other custom orders may take weeks to fulfill. Plan early so that the contractor you hired is not waiting for the product to arrive in order to complete the project.  This will ensure your renovation will be done in a timely manner and to your liking.
People may think that a bathroom renovation is a simple task, but as shown there are many variables to consider. At the beginning of the process people tend to focus on color, layout, and accessories. However, if there is no thought about what's behind the walls and under the floors to make the design work well and at an affordable price, this could be a cause for concern. So, before you dive into your bathroom renovation, take some time to consider all these things to ensure that you are fully prepared to take on the project.
If you are having some issues deciding on proper lighting for your bathroom, we found this detailed article that may help you decide what fits your unique style best. Lighting can make or break the entire feel of a room. Whether you are looking to maximize the natural light of the room or find the perfect fixtures to brighten your room, they can really accentuate the other features of your bathroom. This article goes through all of the options at your disposal for you to choose from. Check it out HERE.
If you are looking for some inspiration for your bathroom remodel check out some of ours on our Portfolio page or Houzz Profile