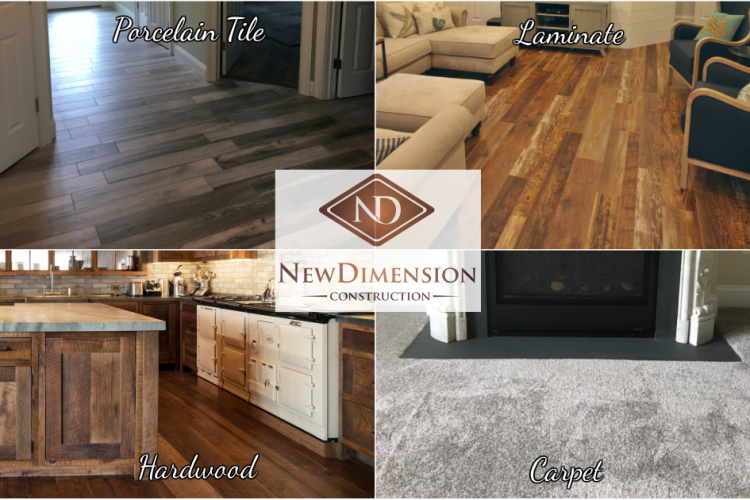 Picking out what type of flooring for a home can be overwhelming; there are now tons of different options and styles to choose from. To help simplify the process, we created the four basic categories of flooring; wood, tile, laminate and carpet.
Hardwood
The most timeless flooring option is hardwood. It is durable and can be repaired when necessary, which allows this flooring option to last for generations. It is one of the higher priced options, but it can increase a homeowner's resale value. Hardwood does show dust and dirt very easily, so it requires weekly sweeping. Hardwood flooring damages easily from moisture so it is very important to clean up spills immediately and to use cleaners specifically made for wood. The look and feel of a room can be easily change with an area rug which can also help with the noise nuisance wood generally causes.
Tile (Porcelain)
Porcelain tile is the toughest flooring options available. Porcelain is stain resistant, fire resistant, and is incredibly durable. Tile may be minimal in maintenance but the grout needs to be sealed from time-to-time, which helps prevent the grout from discoloring. Porcelain tile is heavy and very time consuming to install but can be installed over a radiant floor heating system. It's also important to be aware that brittle items will break if dropped on porcelain.
Laminate Flooring
One of the cheapest flooring options is laminate. Laminate is installed over a thin foam cushion which allows it to be installed over most existing flooring. It is designed to be defect-free as it is created by composite wood and an image of hardwood is laid on top.  Laminate is more durable then hardwood but cannot be easily repaired. To repair laminate the damaged boards will need to be replaced but, the new boards may not match the existing boards due to fading from the sun.  Laminate is also moisture sensitive, so be sure to pick up spills and keep an eye on the humidity.
Carpet
The fastest and cheapest flooring option is carpet. A top-quality carpet can last about 10 to 15 years but it will get stained and matted over time. Carpet is warmer in the winter and can help muffle footsteps. Issues come about if someone has allergies in your home because they trap dust and irritants very easily.
No one flooring option is perfect for everyone, as each style has its pros and cons. New Dimension Construction recommends taking the time to think what matters the most to you and your family: durability, price, comfort, or clean-ability.  If you live near Dutchess County, New York contact us today to schedule your appointment to discuss the possibilities of your next project.