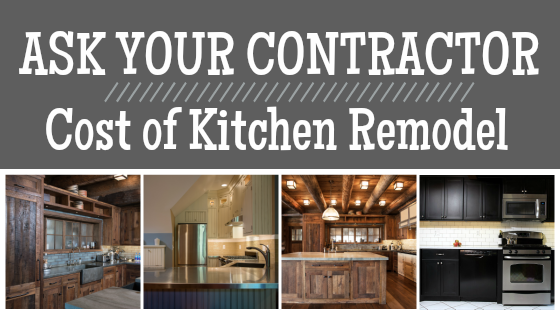 Ask Your Contractor: Cost of a Kitchen Remodel. Homeowners often wonder how to get an accurate estimate for their dream kitchen. By having realistic expectations and information can help determine their price range. Imagine receiving a bid that included laminate counter tops, when you wanted granite. That change alone will make a difference in your bottom line by thousands of dollars. Many homeowners receiving kitchen renovation bids, in actuality only account for 1/4 to 1/3 of the true renovation cost. Cabinets, countertops and appliances are often excluded due to the broad price range.
 1. Have a ballpark in mind:
Here is a general idea in the Middle Atlantic (New York, Pennsylvania, New Jersey)*:
| | Mid-range | Upscale |
| --- | --- | --- |
| Major Remodel |  $65,651 | $129,466 |
| Minor Remodel |  $21,919 | —— |
Mid-range: Standard Prefab cabinets and counters, economy appliances, no structural modifications
Upscale: Cabinet, appliance, and fixture upgrades, quartz or granite counter upgrade, minor structural modifications
Remember other things affect your bottom line: Am I moving a load bearing wall? Do I need to relocate plumbing lines or other major structural upgrades?
2. Decide where to spend your money:
Where does your money go in a kitchen remodel? Here is a typical breakdown.
Cabinets 30%
Appliances 14%
Countertops 10%
Lighting 5%
Plumbing Fixtures 4%
Paint 2%
Tile 2%
Since you have set your overall budget, you can decide what area's you want to conserve, and where you want to splurge a little.
3.  Be detailed when meeting with contractors:
Tip: The more information you provide early, the more accurate your bid will be.
Have you already picked out your appliances?
Do you know what kind of countertop or plumbing fixtures you want?
Where would you like help with selections?
All of that will increase the accuracy of your bid. And if you have any questions; ask. Answering questions and concerns up front helps you, and your contractor.
Cost of a Kitchen Remodel; *Source: Cost vs Value 2018