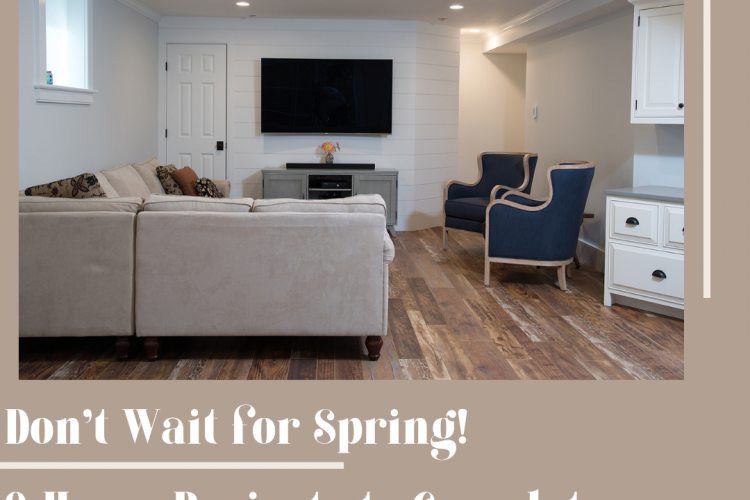 Winter's approach doesn't mean you can't work on improving your home. There are plenty of indoor projects for cold and snowy days. Here are a few winter home projects you can get done this winter. No need to wait for the spring!
1 . Change Cabinet Hardware
A simple task you can complete on your own, updating hardware can have a big impact on the look of your kitchen. Old pulls and handles on cabinets and drawers can make the actual cabinetry look stale and outdated. Fresh, new handles could be the simple tweak to make your kitchen feel brand new. The best part is that it's a quick project you can ace in an afternoon.
2 . Paint
Since you're stuck inside anyway, you may as well stick a fresh coat of paint on your interior walls. During the winter the cold, dry air will help paint dry faster, and the cost of supplies and professional help will be lower since painting is not as in demand as in the spring and summer. Adding vibrant color to your walls may be just the cure for the winter blues.
3. Add or Update Backsplash
A backsplash can add color to an otherwise neutral space or complement and enhance the existing design of either the cabinetry in the kitchen or the vanity in the bathroom. A backsplash not only protects the wall from water damage but also adds a notable aesthetic enhancement to the room.
4 .  Revamp Laundry Room
The laundry room is essential to the home's day-to-day functioning but often doesn't get the attention it deserves when it comes to remodeling. Since it's used regularly, why not make it a more functional space that looks great at the same time? Laundry rooms can provide more than just a place to wash your clothes; they can add much-needed storage space if laid out properly. Consider adding shelves or cabinets, or maybe an island or an area with a countertop to fold your laundry right there. There are often some fun ways to design this room to fit your personal taste and needs.
5 . Remodel the Kitchen
Is it time for new cabinets or countertops? Replacing them can give your kitchen a new lease on life. The seemingly endless selection of materials, styles, sizes, and finishes allows you to choose the perfect cabinet or counter surface to work with the rest of the kitchen and make it look as if it's had an entire makeover.  Check out some of our past kitchen remodels here.
6 . Shake up the Lighting
A new lighting fixture can have a big impact. Lighting can set the whole tone of the room, from elegant and subdued to vibrant and exciting. The right light fixture can also bring the focus to specific parts of a room you want to feature.
7 . Insulate and Seal Leaks
While not the flashiest home upgrade, insulating properly and sealing doors and windows will help keep your utility bills down and make your home more comfortable during the winter. Adding insulation in your attic, basement or crawl spaces goes a long way in preventing heat loss. Check all doors and windows for leaks that can allow cold air to get through and evaluate the need for caulk, sealant, or weather-stripping in each case.
8.  Update Flooring
Maybe your hardwood floors need to be refinished, or your tile flooring needs regrouting, or you want to add or replace the old carpeting. Try to get this done before spring's mud and dirt arrive at your doorstep.
9 . Finish Basement
This can be the perfect project to take on during the cold seasons. A finished basement can not only give you extra useful space but also increase your home's value. A finished basement can provide the same benefits of a room addition at a much lower cost, and it can serve a variety of purposes–spare bedroom, home gym, or entertainment area, for starters.
There are many projects you can tackle during the fall and winter that can give your home the face-lift it needs. While some may require a professional's help, you can easily complete others on your own in a day or two. Don't let the cold put the kibosh on home improvement. Tackle these winter-friendly home improvement projects this year!