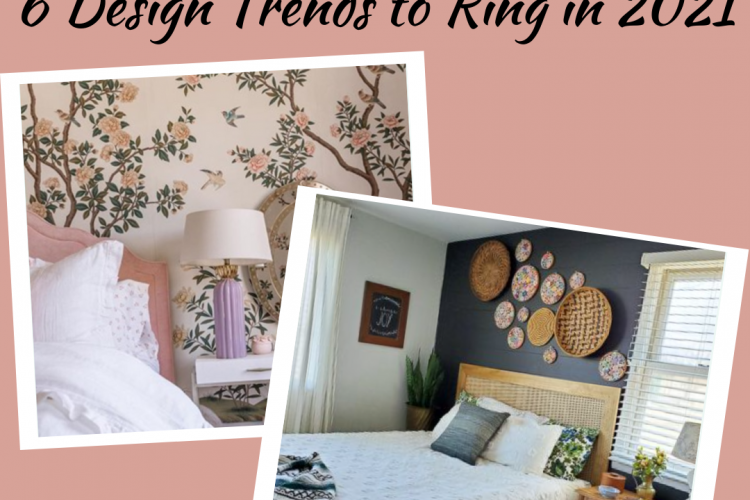 Over this past year, most of us have found ourselves spending more time at home–whether sheltering in place, home-schooling, entertaining friends via Zoom, or working. All that extra time there has had us rethinking and revaluating how we live our lives and what home means and feels to us. As we finally say goodbye to 2020, we look forward to welcoming 2021, and these new, easy-to-integrate décor trends are just what we need to kick-start the new year.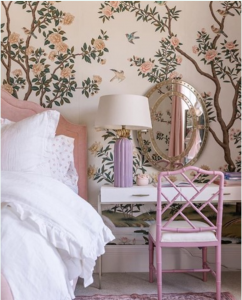 Grandmillenial Style
This updated take on traditional style borrows heavily from the comforts of grandma's home–think vintage touches like family heirlooms, needlepoint, skirted furniture, slipcovers, wallpaper, and classic prints in chintz and toile–all in fresh colors and patterns. It's a great way to incorporate modern-day design with classic and retroelements. To keep the look from getting stuffy, play around with different prints, colors, and finishes. A previously owned floral couch looks thoroughly modern paired with abstract wall art and metallic accents.
Sustainable Design
Just like the shift away from fast-fashion, home décor has seen a switch from mass-produced products to quality pieces that focus on craftsmanship and sustainability.  Perhaps this trend can be attributed to our desires to create unique homes that reflect our individual tastes while making conscious decisions to lessen our impact on the environment. There is a strong desire to be close to nature, live simply, and create a home that is rooted in warmth. Introducing thrifted, inherited, or second-hand pieces into your home is an easy way to include sustainable design.
Natural Materials
With the push toward sustainable design, we'll see fewer man-made materials and more organic and natural ones. Rattan (made from palm stems), wicker (made from willow twigs), and bamboo (a fast-growing grass prized for versatility and strength much like hardwood) are all-natural materials popular for furniture making. Plants are not exactly a new trend, but they will remain a popular décor item in 2021. Not only do they make a space more beautiful, but they also act as air purifiers and can even improve your mood. A couple of easy ways to incorporate more natural elements into your home: Introduce rattan with a caned headboard or start a simple window herb garden in the kitchen.

Easy-to-Clean Surfaces
COVID-19 has put cleanliness at the forefront for most homeowners. How many of us have incorporated a stylish yet practical, hand-sanitizing station somewhere near the entryway? Leather, velvet, microfiber, and vinyl are all durable and easy-to-clean fabrics.  Quartz countertops are still very much in fashion. Not only is quartz virtually indestructible; it requires very little upkeep other than basic cleaning and is more affordable than its granite and marble counterparts.
Closed Floor Plans and Multipurpose Spaces
Open floor plans are great for gathering and entertaining, but to say that 2020 has made that challenging is an understatement. Now that we find ourselves working from home at the same time our kids are attending school via Zoom, the open-concept floor plan does not seem as appealing as it once did. The need for privacy and quiet–i.e., rooms with doors–has become a top priority in 2020 and will continue into 2021. Also, carving out spaces for specific tasks and rooms that multitask will be huge for 2021.
Warm, Earthy Tones
This year the focus will be on calming shades of blues and greens and earthy tones like olive green, burnt orange, and terracotta. Warm neutrals like browns, beiges, and taupes will continue to be popular this year. Even whites will get a little softer with warm undertones. Try swapping out a cold, harsh white with a warm, soft one like the ever-popular Simply White from Benjamin Moore.
6 design trends 2021